Profile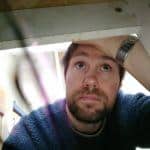 Andy Buckley
Curriculum Vitae
Education:

Campbell College (Belfast), then Uni of Cambridge for degrees and PhD

Qualifications:

GCSEs and A-levels, MA and MSci degrees, and PhD

Work History:

Durham University, University of Edinburgh, CERN, University of Glasgow

Current Job:

Senior Lecturer, University of Glasgow
Favourite thing to do in my job: Finding ways to turn the pictures in my head into data no-one's seen before

About Me

Particle physics lecturer in Glasgow, originally from Belfast, likes mountains and fear

Read more

I'm originally from Belfast, but moved to England for university and have shifted about every few years since then, most recently in Edinburgh, Geneva, and now Glasgow. I'm married and have two young kids, at 3 and 6 years old. When I get time, my favourite things are outdoor adventurey sports (like climbing, mountaineering, off-piste skiing, mountain biking, and paragliding) and playing drums.

My Work

Understanding the tiniest building blocks of our universe

Read more

My research work is on particle physics, mostly in predicting the outcomes of colliding super-high-energy protons together in the Large Hadron Collider (LHC) in Geneva, and comparing them to real measured data so we can make the theories more accurate. Sometime that means searching for (or ruling out) exciting new theories about the big picture of our universe, and sometimes it's more about the nitty gritty details of an established theory that hasn't yet been completely pinned down.

The LHC is a 27 km  tunnel underground across the French-Swiss border, near Lake Geneva and nestled in-between the Jura mountains and the Alps chain. It's a pretty interesting geological area, and also very handy for people like me who like to spend time in the mountains! Here's a snap of the LHC area from above, with the tunnel drawn on top since it's most invisible on the surface, apart from a few access-shaft buildings:

Underground is some very cool stuff, including the LHC accelerator itself:

and four huge experimental particle detectors, including the "ATLAS" one that I work on:

My work fits in-between theory and experiment: after my PhD work on the LHCb experiment, I worked for 4 years in Durham on particle-collision simulations that link the mathematical theory to realistic predictions that we can test. Here's what one of those collision event simulations looks like:

Each of the different colours here shows a different kind of physics effect that needs to be coded up in our computer simulation. The red bit at the centre is the "hard" interaction inside the protons that we are mainly interested in, based on a particle physics process like this one (going from the left-hand set of particles to the right-hand ones):

But once all these other effects have been taken into account, in an experiment it might look like this, with different bits of the detector seeing different kinds of final-state particles:

This kind of event is an example of what we were looking for when we found the Higgs boson in 2012 — by that point I was in charge of these simulations for the ATLAS experiment, so feel quite a bit of pride about being part of that big event, as well as many other important physics studies.

My work is still a mix of theory and experiment: right now I'm measuring the properties of so-called b-jets — flows of energy containing bottom quarks — and trying to use the measurements to improve our understanding of how the strong nuclear force works when the particles involved are quite heavy. This is important for getting the most out of the LHC in both Higgs boson physics and in tests for new particles. I'm also studying the angles between particles in top-quark physics, and working with theorists on testing which models of new physics in top-quark and dark matter physics are compatible with LHC data.

And of course, I'm also a teacher and manager at Glasgow University!

My Typical Day

Lots of meetings! And finding time for feelgood science-ing

Read more

I often wonder where my time goes! Working in a big university and on a big particle physics experiment means there's quite a lot to keep on top of, so my day involves a lot more emailing than I would ideally like! Quite a lot of it involves thinking about the best ways to get a physics result, though, so my brain is still working.

I also do a lot of meetings, either with my research students and staff to discuss their progress and latest results, or often over a Web/video link to meetings in Geneva or completely online, to discuss physics simulation or data analysis plans. Probably half my typical day goes into this.

I still like nothing more than getting my hands (or rather my keyboard) on some data, and writing comuter code to crunch through it and come up with a new visualisation of what's going on. It's very cool to be the only person in the world to know something, and that happens a lot more regularly than you might think… although only in a groundbreaking way every now and then! So I always try to carve out some time to get my hands dirty, even if that time only happens when I'm at home and should be watching TV.

What I'd do with the prize money

Make an interactive web app for exploring LHC collision events

Read more

It's really cool that you can find lots of LHC event images and animations online with a Google or YouTube search, but as a member of the public you're a bit of a passive observer. With this prize money I plan to pay for some software developer time to put together a free, Web-based LHC event analysis tool to give more of a flavour of how particle physics research really works, with an interactive 3D event display and a simple way to write your own data analysis code and see its effects in real time. I think it would be particularly awesome to show this stuff live at public talks with a really huge screen, like a cinema or planetarium.

My Interview

How would you describe yourself in 3 words?

distracted excitable contrary

What's the best thing you've ever done in your career?

Higgs boson discovery, yawn... but personally I've got as much pleasure from some really nicely written simulation and analysis tools!

What or who inspired you to follow your career?

Academia is the only way to do particle physics, and I was always interested in that or astrophysics... but it was my final-year degree lectures by Richard Batley and Bryan Webber that really made up my mind

What was your favourite subject at school?

Physics! I really liked biology and art, too

What did you want to be after you left school?

A physicist. Sorry!

Were you ever in trouble at school?

When A-level physics turned to exam practice, I started skipping class to play pool. But otherwise I was pretty good!

If you weren't doing this job, what would you choose instead?

Eek. Hopefully something that mixed analysis skills with social responsibility, like optimising healthcare or disaster relief, or just economics in general for people's benefit

Who is your favourite singer or band?

So many! Right now I'm liking The Leisure Society a lot. I listen to a lot of music as a drummer, thinking about how to play pieces, and so am quite into technical rock stuff like Russian Circles, God Is An Astronaut, Porcupine Tree, Tool, and so on. Recently I've been listening to Blossoms and Black Foxxxes

What's your favourite food?

I'm a fan of most food, done well... but I can do *without* boiled potatoes after too many days on my grandparents' potato farm

What is the most fun thing you've done?

Paragliding, it's mental

If you had 3 wishes for yourself what would they be? - be honest!

1. Wish I had a better attention spa... 2. Wish I "got" complicated maths more easily 3. Wish I had more free time!!

Tell us a joke.

Why is a physics book always unhappy? Because it has a lot of problems.
---
---