Profile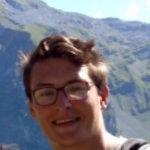 George Fulton
Send through your questions through ASK, I'm happy to answer any question however crazy!
Curriculum Vitae
Education:

Hampton school, University of Oxford

Qualifications:

MEng (Engineering), A levels (Physics, Chemistry, Further Maths)

Work History:

UKAEA

Current Job:

Graduate Materials Scientist

Employer:

I work for UKAEA (United Kingdom Atomic Energy Authority). We are developing nuclear fusion power, which is nuclear fission's lesser known friend. Instead of splitting highly radioactive uranium, hydrogen isotopes are fused together! It packs more energy and has the potential to be both a scalable and sustainable energy source for our future.
Favourite thing to do in my job: The freedom to be creative. Wacky ideas are the best!

About Me

I'm a Materials Scientist - I make sure what you build stuff out of isn't nonsense and I come up with alternatives when it is! I'm just out of university, and I'm interested in helping the UK move to sustainable energy sources.

Read more

I live in Oxford with my partner. I don't currently have any pets – but I'm a massive fan of cats. I love rugby, rockclimbing and all racket sports (I get my 3R's in this way post school life). I love to challenge myself and this year I'm doing the 3 peak challenge, which is where you have to climb the 3 tallest mountains in England, Wales and Scotland in under 24 hours.

I studied Materials science at university. It's not a well-known subject, but arguably it's one of the most important. We help design lighter, faster F1 cars, more fuel efficient aeroplanes and make some of the strongest and toughest materials for the most challenging conditions!

My Work

I test materials under the extreme conditions in a nuclear reactor. These are some of the most unforgiving places on our planet for materials!

Read more

I test materials under the extreme conditions in a nuclear fusion reactor. These are some of the most unforgiving places on our planet for materials!

Can you think of a material that can withstand: ultra high temperatures (>1000C), huge radiation levels, and giant forces for prolonged periods of time?

If so, please let me know as it will make my job a whole lot easier!

My Typical Day

It honestly varies too much, that's what makes it so fun. You can't get bored.

Read more

Any particular research project will take around 6-8 months to complete. At the start of the project, I will read literature, understand what has and what hasn't been done because no one wants to discover something that someone found out 50 years ago!

Then I get my material, polish it up to a perfect mirror finish (typically if you can see yourself in your sample its good to go) and then test it. Because some of my samples are radioactive, I am not able to handle these directly. Instead we use 'manipulators' or robot arms to do the same job. This is very fiddly work and requires highly skilled users.

There are many different tests that can be carried out, but typically Materials scientists like to 'look' at our material after we test it to see what has happened to it.

We use electrons to see the material and this means we can go up to very high magnifications. I am able to look at materials up to X30,000,000 magnification. Under these magnifications, a human hair would be 3km wide.  It is even possible to 'see' individual columns of atoms!!!

So if any of you don't believe everything is made up of these teeny blocks called atoms then I can tell you I've seen them!

What I'd do with the prize money

Materials outreach events

Read more

I will donate the money to my companies outreach programme. The money will then go towards buying a tabletop microscope and selection of materials samples to look at. The aim is to try and engage children with materials science and the special materials which are needed for fusion!

My Interview

How would you describe yourself in 3 words?

Approachable, open-minded, patient

What or who inspired you to follow your career?

The work inspires you - you are doing something that no-one in the world has done or there is no answer to look up! It's groundbreaking potentially.

What was your favourite subject at school?

Probably Physics, but I also thought geography was great!

What did you want to be after you left school?

Honestly, I didn't know, but I wouldn't have guessed I'd be a scientist!

Were you ever in trouble at school?

Not especially, but I wasn't necessarily well behaved....

If you weren't doing this job, what would you choose instead?

If it wasn't scientific, I'd be like to work be a manufacturing consultant.

Who is your favourite singer or band?

Brandon Flowers / Killers

What's your favourite food?

I'd eat anything if it's cooked....

What is the most fun thing you've done?

I've been cage diving with Great White sharks off the coast of South Africa. Scary but fun!

Tell us a joke.

"Nuclear fusion is 40 years away and always will be"
---
---