Profile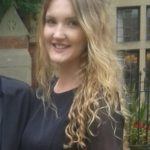 Sophia Pells
About Me:

I'm a PhD student in nuclear physics at the University of Manchester.

Read more

Hi!

I'm Sophia, I'm from Leeds but live in Manchester with my boyfriend. I have a cat called Biscuit who likes to stick her tongue out and chase sweet wrappers around the house. Here she is in her signature pose:

I love to visit different countries and try new foods. Some of the strangest things I've eaten are chicken hearts in Brazil, ostrich steaks in Spain and grasshoppers in Thailand.

I also like drawing and trying to learn new languages. I lived in Madrid for a year as part of my degree so got to speak lots of Spanish, and I'm trying to learn Portuguese at the moment.

Now I'm quarantined I'm spending my time working from home. I'm still trying to keep trying new foods but it's me cooking them now so I've had a lot more disasters! I've also been doing some yoga and painting and playing silly 2-player Playstation games with my boyfriend (Overcooked is my favourite!)

Read more

A PhD student has to research something that hasn't been researched before and then write a thesis on everything they've found. I'm in the third year of my PhD, so I still have just over a year to finish my research and write it all up.

Even though I study nuclear physics, my work is closely related to nuclear medicine. Nuclear medicine uses drugs containing radioactive atoms to treat cancer. The radioactive atoms release lots of energy into the cells of tumours to kill the cancer. Radiation can also be photographed on hospital scanners, so we can use these radioactive drugs to see where the cancer is in someone's body.  For my PhD research, I'm looking to find new radioactive atoms which can do these two things better than the ones that are used at the moment.

To produce the radioactive atoms, you need to use extremely high energy particles to cause nuclear reactions, so we go to places like CERN to produce them. I'm also researching how we could produce these atoms in the UK.

Once we have made the radioactive atoms, we want to see how easy it is to photograph them.  We can't put them straight into people so, instead, we mix them into a solution and put them in 3D-printed models of organs like the ones in this picture. The green organ is a liver, red is the spleen and the blue and pink are kidneys.

We then put these models in a hospital scanner. This picture is of a SPECT scanner. SPECT scanners use rotating cameras to take photos of  radiation.

The cameras rotate right around the model, so we get a 3D image like the one below. The brighter parts are the parts with more radiation.

I study images like this to see which radioactive atoms give the clearest images, to see which would be the best to use in hospitals.

My Typical Day:

I do lots of different things, but a lot of them involve using computers.

Read more

I spend a lot of time writing code to run simulations and analyse data. I look at lots of different pictures we've taken of radiation to see how we can make them better. I also read a lot of science journals and text books. Sometimes I work at a hospital, to use their scanners and software. I meet every week with my research group and present what I've found. Sometimes I get to go to international conferences to meet with other scientists working on similar things.

What I'd do with the prize money:

Build Lego SPECT scanners and 3D print models to show how the radioactive drugs attach to tumours.

My CV

Education:

The University of Manchester. Notre Dame Sixth Form College, Allerton High School.

Qualifications:

MPhys with Study in Europe. A-levels (Maths, Physics, Further Maths and AS Spanish)

Current Job:

PhD Student at the University of Manchester

My Interview

How would you describe yourself in 3 words?

Enthusiastic, determined, approachable

What did you want to be after you left school?

I wanted to be a vet for a while, but then decided I wanted to be an astrophysicist. During my degree I changed my mind and went into nuclear physics instead.

Were you ever in trouble at school?

I was never in big trouble but I did used to talk quite a lot.

What's your favourite food?

I eat anything! Pistachio icecream or cheesecake are favourites though.

Tell us a joke.

What do you call spaghetti in a disguise? An impasta!
---
---
---
---